Today we started on adventure that may take us a bit of time to complete, but should be a lot of fun … how can we resist helping innocent puppies?  We started today be finding our first puppy, Oddball.  Now, only 100 more to go!  Below is the plea we received from them:
Click here to see the primary 101 Dalmatians listing on Geocaching.com.
Oh, no! Word has it that Cruella de Vil has captured all 101 Dalmatian puppies and she plans to skin them and make herself a coat from their fur!
This time she has hidden the puppies throughout San Diego County. From Rainbow to San Ysidro… From Point Loma to the Salton Sea…
We NEED your help in finding them and bringing them back home before Christmas. Pongo and Perdi have offered a HUGE bounty to the first to find all of the little puppies. PLEASE help us find them!!!
In case any of you spot them, here is a photo for your reference: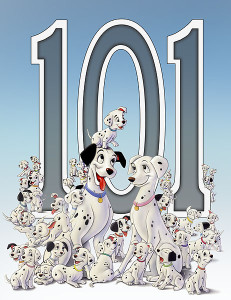 Wish us luck!!