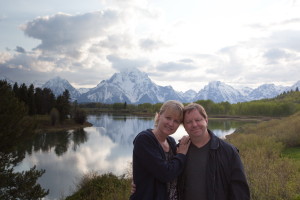 Jo Anna and I (pictured above in Wyoming, with the Grand Tetons in the background) first started Geocaching at the encouragement of our son Chris.  We logged our first cache "Mary loves to take a dip in Tierrasanta" as team fandjca on August 4th, 2010.  At first, I was not sure what Geocaching was all about, but Chris assured me that since I liked puzzles and adventures that this was perfect for me.  I remember Jo Anna and I going with Chris on our first adventure – Chris found the cache and I still was not too sure about Geocaching (Deer in the headlights).  Jo Anna started getting the hang of it sooner than I, but I came around. 🙂
Geocaching is a way for Jo Anna and I to spend some quality time together, whether it be bushwhacking, climbing steep hills, getting lost in the woods, or trespassing (That was a great story! – you can read it here)   It gives us an opportunity to explore in our own backyard (San Diego and beyond!) and find beautiful places we would have never seen!  Geocaching is a World Wide adventure and its Free!
So what are you waiting for?  Grab the kids or your better half and head for the hills!  Your adventure awaits!
Visit http://www.geocaching.com to get started!!