Leaves of Three – Let them be
This has been one of our favorite Geocaches!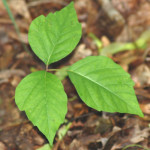 What an adventure! We first scaled down one side of the canyon, went bushwhacking through the muddy hillside and then scaled up the other side, only to discover we really were not as close as we thought we were. To get out of the canyon, we ended up trespassing through someone's backyard. Jo Anna was sure the police were going to take us away at any time. We cut through the yard just as the owner was coming out of the front door of the house and we made it to safety. We can't believe she didn't see us! Finally got on the correct trail and made it to the location. We spent 45 minutes searching – almost gave up – great hiding location!! We don't think this was a "2" more like a 3+. This cache hadn't been found for a while so we took the 2 travel bugs to move them along. We left one of the three little Pigs Travel Bug. This turned out to be our best caching adventure yet!
HINT:  For anyone not able to find this cache, if you want some help, here is a rhyme for you … Get on your hands and knees!  Remember, it is a large cache … you are not going to find it in the trees.